Injured on Vacation * Guest Post *
This is a guest post from my dear friend Shash who blogs at
Canada Travels
and
Shasher's Life
. She is a seasoned traveller and I asked her to share this story with you all...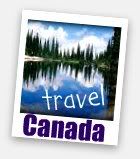 Have you ever been injured while on vacation?
In 2008 we took the kids to spend 10 days in the
Smoky Mountains
. Nearing the end of our trip, the last day at
Dollywood
,
I had an accident
. Actually a couple....
When we first entered the park my hubby wanted to go hear a
Gospel quarte
t, as we were waiting for it to start, my youngest child was wiggling like only a 2 year old can. In a matter of seconds of trying to get him to sit still, he flailed his arms and one of his hands made its way to my face and he scratched my left cornea.
Man that stung!!
I was a trooper though, I managed to make it to the first aid station and they patched my eye but I continued to walk the rest of the park with the family, to make sure they got to ride all the rides they had missed the 2 days before.
My superpowers were starting to wane later in the afternoon.
When it started to rain, I drew the line and pulled rank that we were leaving the park. After we went for ice cream of course....
While we were sitting having ice cream I reached in for the camera and realized that I didn't have it, after searching all over the place I decided to go to the lost and found and fill out a report. As I was leaving the ice cream shoppe, I started to run (to keep dry from the downpour) when my flip flops went out from underneath me and I fell forward, directly onto my knees.
Who knew that when new asphalt with mega amounts of sealant spray on top of it gets slippery when wet??!!!
So here I am, a pirate patch over my left eye and I'm on all fours in the pouring rain in the middle of the amusement park. I kept thinking to myself,
"Don't cr
y!" "Don't cry!" and then I started to bawl, uncontrollable sobs! A man that was sitting at a table by the entrance to the ice cream shoppe quickly came to my aide and picked me up. My right knee was the size of a cantaloupe!! It had swelled up nicely.
Security was called - people wanted me to fill out accident reports... I just wanted to get home. They gave me an ice pack and put me in a wheelchair and wheeled me out of the park. A great last day at Dollywood.
By the time we got back to
our resort
, my eye was swollen almost shut and my knee was pounding. I decided the pain was too great for this super-mom to take so my hubby took me to the Emergency at the local community hospital. American hospitals are sooooo different than those in Canada (we were in and out within an hour)!!! But I'll save that for another soapbox moment.
THANK GOODNESS I HAD TRAVEL INSURANCE!!
I am so thankful we decided to get out-of-country travel insurance at the last minute (thank goodness for the internet, we really leave things to the last minute!). With the particular insurance that we had, we didn't have to pay a cent up front. When we got home, the hospital sent us a bill for our records and boy oh boy oh boy,
thank goodness I had travel insurance
!!! The tiny tube of eye cream was $80, this tube was smaller than the smallest sample tube of cream I have ever seen!! The rest of the charges equaled to what we paid to stay at our resort for two weeks!!!
So many times I've thought,
"I never get hurt or sick on holidays", "I never use the insurance I've paid for"
and could have so easily decided not to purchase it this time. That would have been a huge financial mistake!
I can't imagine what people would do if they didn't purchase travel insurance and got injured??
For me... it's purchasing peace of mind!
So my
travel tip
to you today is.... take a few moments while planning your next holiday and purchase
travel insurance
.