The Ultimate Blog Party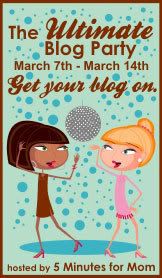 It is time for the Ultimate Blog Party hosted by 5 Minutes for Mom. This is my first year participating and I think it is a very fun idea. Click on the button and check it out!
If you are visiting my blog for the first time let me tell you a little bit about myself. I am a stay at home mom to 3 kids.
Aiden is 5 years old.
Owen is 4 years old.
Olivia is 15 months old.
I talk about my kids A LOT on this blog.
I am married to a wonderful guy named Doug. We are VERY different from each other and we fit together perfectly.
He is the love of my life and he is also a Pastor. Which makes me a pastor's wife. I belong to a pastor's wives blog roll that is listed on my sidebar if that topic interests you! My husband also takes wonderful pictures and makes me laugh.
I am lucky enough to have my sweet mother living nearby. She moved here a few years ago to get to know my kids and help me out. She is wonderful. She also turned 65 yesterday and is considering moving into our home with us. My mom and I are very close because she was a single mom and I was an only child.
We moved constantly during my growing up years. My mom always said she had a touch of wandering Gypsy in her. We moved an average of once per year. Which means I never attended a school for longer than one grade until highschool. I did manage to do two grades in a row for grades 11 and 12. We changed homes like some people change paint colours. As a result I am not too attached to "stuff". I am also not very good at REALLY settling in to a place. Somewhere in the back of my mind I always feel like it is temporary so it is important not to get too attached.
My mom was also a hippy. A real live back packing around the world peace love hippy. I LOVE her stories. I find my mom absolutely fascinating. My mom also believes in Jesus and was a pastor's kid. She really is one of the most interesting women I have ever known.
I mainly blog to keep my sanity. I have struggled with post partum depression throughout the past 5 years. I am currently medicated for it and doing well but depression is part of the fabric of who I am. Blogging is a wonderful form of free therapy for me.
We live in a small town of around 3000 people in northeast Saskatchewan Canada. It is cold here today (about -12 degrees Celsius, 10 degrees Fahrenheit) and we still have LOADS of snow. When it snows here everything gets covered in the most beautiful blanket of pure white. Even the roads are white. The trees look amazing covered in frost. The sky is HUGE here and it is almost always bright and sunny. At night the sky is filled with thousands of bright stars and sometimes the northern lights dance accross the sky. It is peaceful and quiet.
I wish spring would hurry up and come. I was born in beautiful British Columbia and I miss the blooming flowers, ocean and mountains. It always amazes me just a little bit that my sons have only been to the ocean once and my daughter has NEVER been. Weird.
This blog is a place for my thoughts and musings. It is life through MY eyes. I welcome comments as long as they are kind. I am 100% imperfect. I love Jesus. I love my family. I love my friends. And I am definitely on the weird side. But that's ok.
Welcome to my world!